---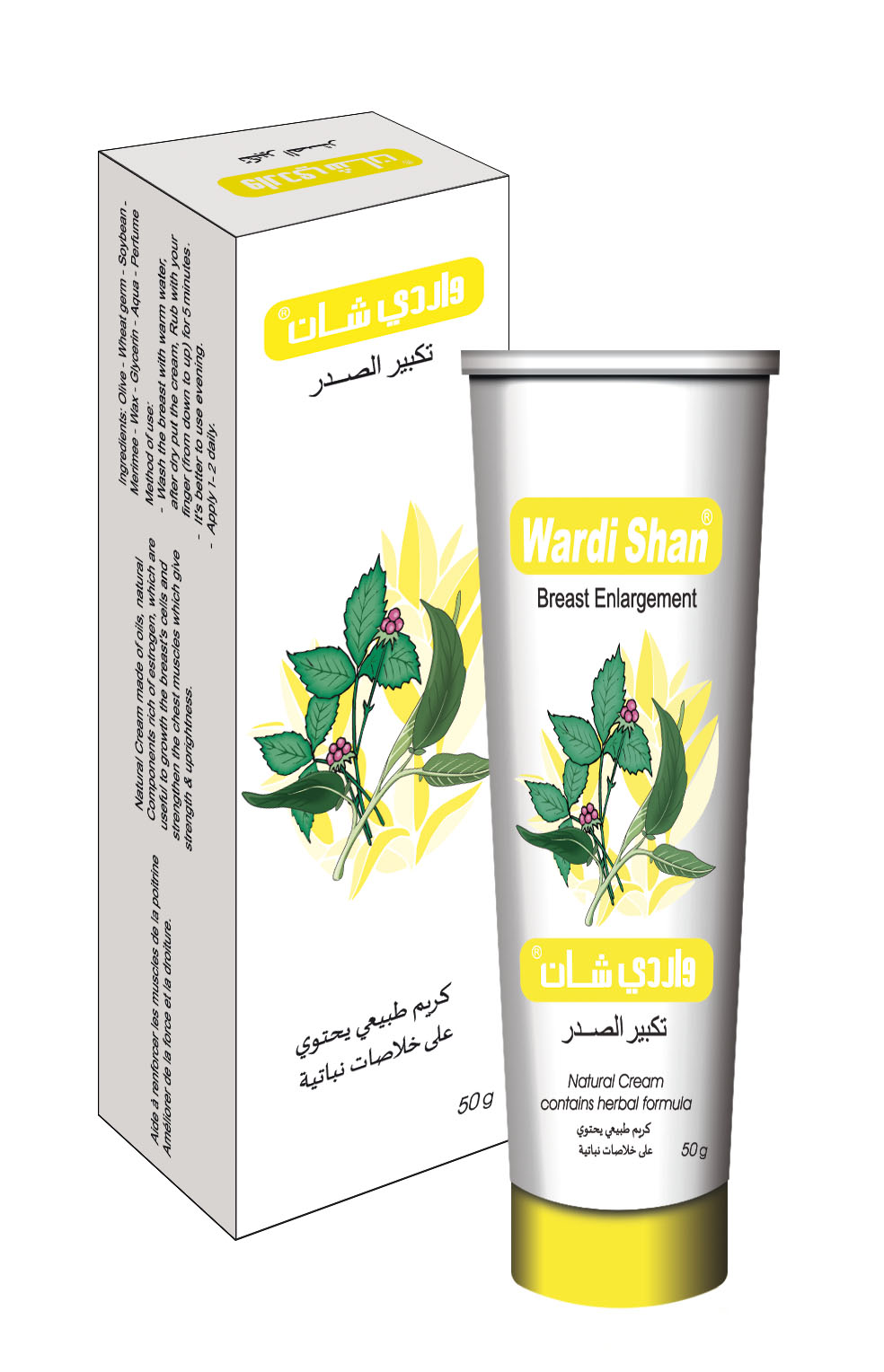 Breast Upright
Cream
- Ingredients: Olive - Wheat germ - Soy - Sage - Glycerin – perfume - purified water..
It contains oils, natural and alimentary extracts which are rich of estrogen that works to urge sebaceous glands and tissues; which are existed at the breast; then provoke to grow the breast cells and storing water, that leads to increase the size of breast by doing massage. Therefore the Size is maximized in case of small breast and very low weight caused of hormone resulting of atrophy after pregnancy and sucking.
Olive:
Contains Vitamin A,B,E, protein, salt of (phosphor, iron & Calcium), Anti-oxidation. It rebuilds cells, Soft and Emollient of skin & hair, Includes Elenalic acid witch kills virus. And uses for sensitive and dry skin, hands & legs, anti- Arthritis and to treat rheumatism.
Wheat germ:
It contains vitamin A,B1,B2,B3,H,K,D,PP, mineral salts, protein, active elements :
(calcium, phosphor, potassium, sulfur, manganese, sodium, chlorine, Fluorine, iron) and enzyme, Anti- pigment, Anti - inflammatory, stop itching and skin soft .
Soybean :
It contains 40 % protein , (12- 25) % fat, ( 10-15 ) % sugar and mineral salts as ( Ca, Mg, K, S, Fe, Ph,..). Vitamins: A,B1,B2,D,H, Yeast of daystar, listen, honey ox, gum of pine, cellulose, Casein , N . It builds muscles, bones and nerves. Body repaired, making balance among cells. It contains high percentage of vegetable estrogen which cause growing of breast cells and storing water.
Sage:
It contains bitter diterbeen, flafoniates, finoloic acid, tannic acid ,volatile oil which is :
borniol, bynine, Cinyol togone (50 %).. The last one is considered a strong sterilized that generates estrogen, female Hormone, which is useful for breasts enlargement. So; it is strengthening, depressing and anti-Inflammatory, sweet smelling, driving out wind, generates astrogine- female hormone- useful for Enlargement breasts, decrease perspiration and for muscles spasm.
Glycerin :
It easily eliminates dead cells, best lip, hands & body soft..
Advantages:
1- Breast upright.
2- Tightening & harmonization of breast.
Method of use:
- Wash the breast with hot water, dry them, put the cream and rub by a circular way (down to up) for 5 minutes. It is preferred to do it in the evening.
- Use 1-2 times in a day.
- Do it regularly and you will find the result after (2- 4) weeks.
- Natural and safe without any side effects .
Note: To have a perfect result; it is advised to do sport exams as follow:
- Keep your back straight during walking or sitting.
- The brassiere must be comfortable and with a right size. do not use one with metal wire with half circular shape.
- After having a bath; put some cold water on the breast to activate blood circulation which increases the volume.
- Use a special brassiere during sport exams.
- Doing massage for rebuilding cells and activating blood.
- Do not sleep on your abdomen.
- Do not do strong sport exams.
- Do not press the breast.
- Do it regularly; push your shoulders back, applause back also is useful to increase volume of breast.
- Put your hands above the head to raise the breast.
- Pressing exams - as pressing a ball- is useful to give the breasts circular shape.