---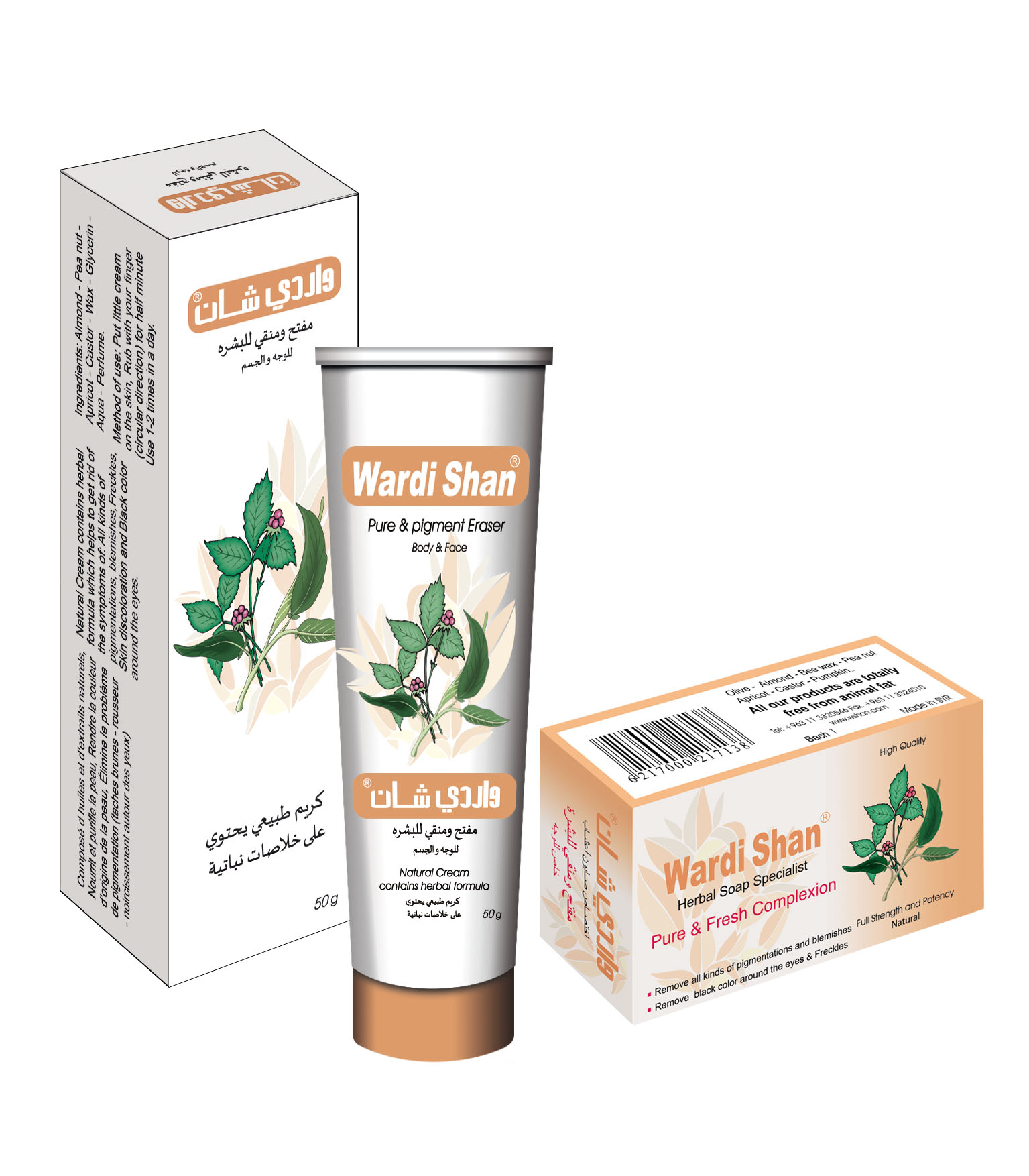 Purify & Freshen Complexion /
soap
Lighten the skin & pigmentation /
cream
- Ingredients: Olive - Palm - Almond - Wheat - Tea - Glycerin - perfume - purified water
Contains natural oils & extracts which are useful to feed & nourish. This leads to rebuilt the cells & unify skin tone. And this Increases the freshness of the skin and gives it the appearance of health and youth.
Olive:
Contains Vitamin A,B,E, protein, salt of (phosphor, iron & Calcium), Anti-oxidation. It rebuilds cells, Soft and Emollient of skin & hair, Includes Elenalic acid witch kills virus. And uses for sensitive and dry skin, hands & legs, and anti- Arthritis.
Palm:
Contains hydra carbon, fat, fibers, vitamin A,B1,B2,C protein, sugar, oil, lime and mineral salt (iron, phosphor, sulfur, potassium, manganese, chlorine, copper, calcium & magnesium). Anti- oxidation, It rebuilds cells, hair & skin tonic.
Almond:
It contains vitamin A,B,E, mineral salts (calcium, phosphor, potassium, sulfur, and manganese), rebuilds cells, skin soft, stop itching , useful in case of : Eczema, burns, hemorrhoids, Arthritis, low sensitivity of hair & skin, freckles, pigment, dandruff and skin disease.
Wheat :
It contains vitamin A,B1,B2,B3,H,K,D,PP, mineral salts, protein, active elements: (calcium, phosphor, potassium, sulfur, manganese, sodium, chlorine, Fluorine, iron ) and enzyme. (Vitamin H: useful for hair disease, acne, dandruff, baldness and gray or white hair). Anti - pigment, Anti - inflammatory, stop itching and skin soft .
Tea:
Contains polyphenols, which have been shown to fight free radicals & protects from sun damage, reduce sagging skin & wrinkles, Anti-inflammatory, Anti-oxidant, sun production. And has been the gold standard for treating hyperpigmentation.
Glycerin:
It easily eliminates dead cells, best lip, hands & body soft..
Advantages :
1- Helps to lighten & get rid of pigmentation (freckles - blemishes - darkening around the eyes)
2- Cleans the skin from effects of environment.
3- Accelerates the repair & rebuilding the cells which is useful to give the skin radiance, vitality & softening.
4- The cream is rich in nutrients and softening the skin.
Method of use:
Soap:
-Wet the whole face with water, Rub the soap in direct contact on the whole face, Rub whole face with your palms 30 seconds and last Rinse well with water.
Cream:
- Put the cream on the skin, Rub with your finger (circular direction) for 30 seconds.
- It is prefer to use this cream in the evening.
- Use 1-2 times in a day.
- To increase efficiency and speed of results is recommended to use (Wardi Shan / Lighten the skin & pigmentation Cream) after using Wardi Shan / Purify & Freshen Complexion soap.
This product is totally free from animal fat