---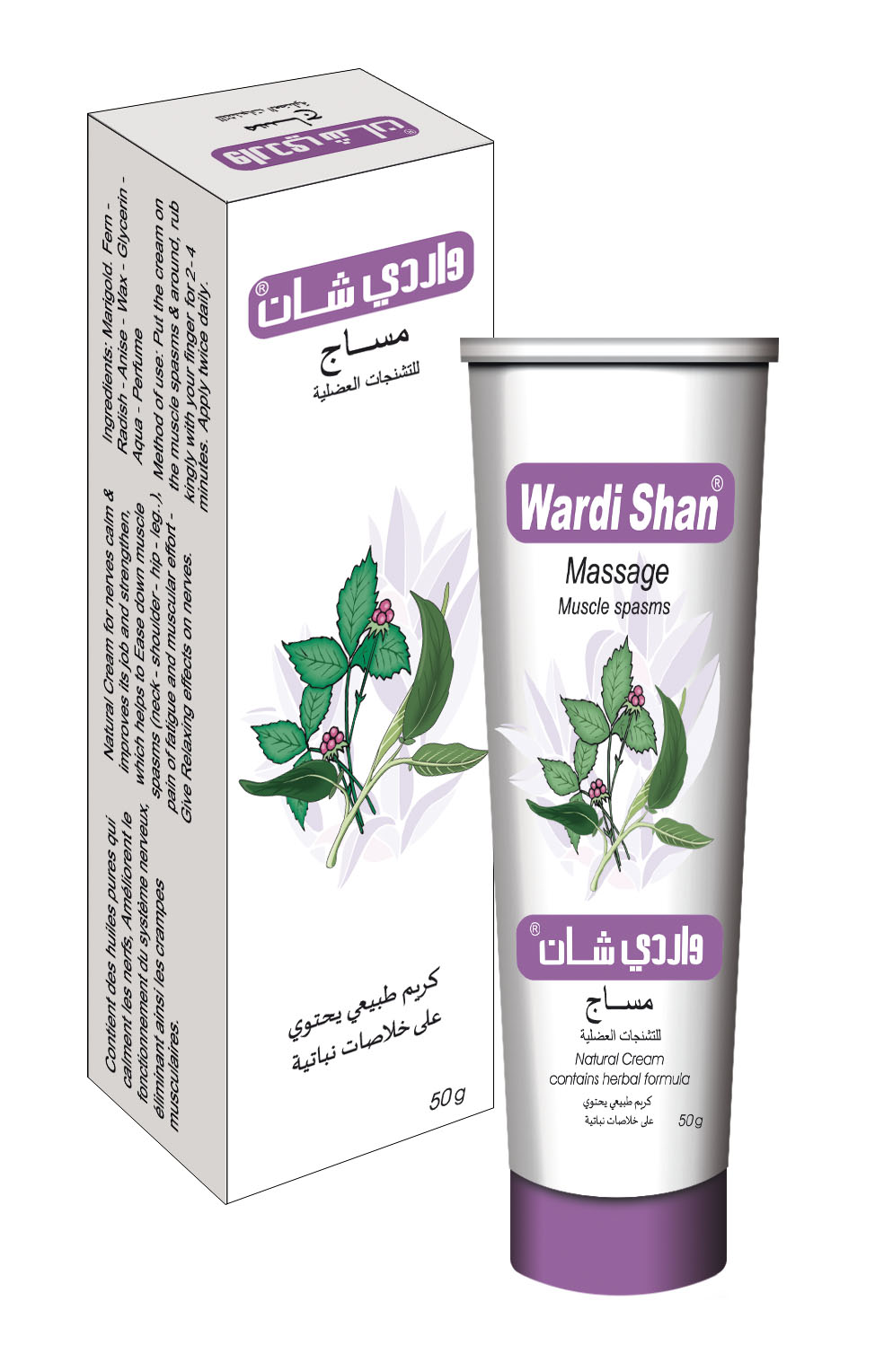 Muscle spasms
/ Massage
Cream
- Ingredients: Ginger - Marigold - Anise - Almond - Glycerin - perfume - purified water..
Contains natural oils & extracts which helps to calm down the nerves, improve, strengthen and helps to amend nerve system, then pain & muscle spasms will come down and eliminate the fatigue.
Ginger:
The roots contain gum, oil & fat asafetida, starch, volatile oil, gingerin ( sterilizer & antiseptic ). It warms up skin to expand blood vein, increase perspiration and anti- inflammatory.
Marigold:
Contains Oleanolic acid which increases blood nutrition & facilitate potential blood absorb from affliction of (beating, scarification, breaking and bruise ), volatile oil (calm down in general, useful for Arthritis & Dermatitis, and prevent canker.
Anise:
Contains volatile oil witch consists of Anethol, Pinene, Satral, protein, hydra carbon, warms up skin, increases blood nutrition, active nervous system .
Almond:
It contains vitamin A,B,E, mineral salts (calcium, phosphor, potassium, sulfur, and manganese), rebuilds cells, skin soft, stop itching , useful in case of : Eczema, burns, hemorrhoids, Arthritis, low sensitivity of hair & skin, freckles, pigment, dandruff and skin disease.
Advantages:
1- Helps to ease down migraine pain and muscle spasms in: (neck – shoulder – hip – leg - jaw..).
2- Helps to relieve the pain of fatigue and muscular effort, cramps accompanying the gnashing jaws night.
3- Give relaxing effects on nerves which lead to relaxing body & comfort sleep.
Method of use:
- Put little cream on the muscle spasms and around, rub kingly with your finger (circular direction) for 2- 4 minutes.
- Apply twice daily.
- In case of doze or slumber: put the cream on the arms or knee, then Rub with your finger (circular) for 2-3 minutes.